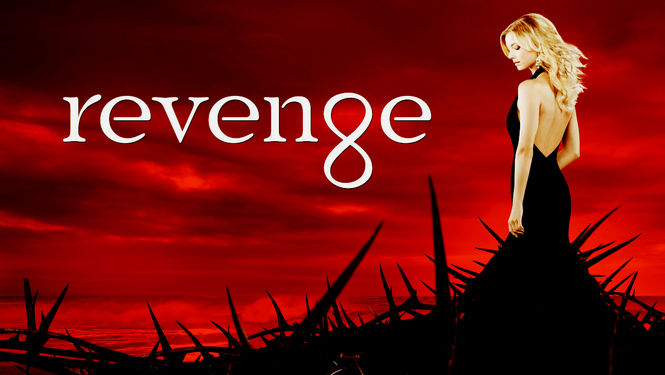 Revenge
2011-2012
TV-PG
2 Seasons
A young woman moves to the Hamptons and charms the pants off her new neighbors -- while plotting their downfall for sins committed against her family.
Summary (
2011

)

When Emily Thorne moves back to her childhood home in the luxurious Hamptons, none of the privileged residents recognize her.
1

Pilot

Season 1 : Episode 1

42 minutes

Pilot

Emily Thorne rents the Southampton home she once shared with her father and sets her plan in motion.

2

Trust

Season 1 : Episode 2

43 minutes

Trust

Emily gets to work on her next target, a former family friend who testified against her father; Victoria tries to find more information on Emily.

3

Betrayal

Season 1 : Episode 3

42 minutes

Betrayal

Emily seeks to destroy the district attorney who convicted her father; grieving Victoria tries to confirm her suspicions about Emily's past.

4

Duplicity

Season 1 : Episode 4

42 minutes

Duplicity

Emily targets the psychiatrist responsible for institutionalizing her as a child; Declan and Jack face a tough decision.

5

Guilt

Season 1 : Episode 5

43 minutes

Guilt

Victoria's vulnerabilities are exposed when feelings of guilt and a fight with her daughter becomes too much to bear; a vindictive Lydia returns.

6

Intrigue

Season 1 : Episode 6

42 minutes

Intrigue

When an incriminating surveillance video surfaces, the Graysons begin to distrust security; the tension between Emily and Tyler comes to a head.

7

Charade

Season 1 : Episode 7

43 minutes

Charade

A high-profile newspaper story interrupts the Graysons' wishes to lay low on their 25th anniversary; Frank hopes to prove his loyalty to Victoria.

8

Treachery

Season 1 : Episode 8

43 minutes

Treachery

Emily's plot continues to unravel; tensions escalate in Victoria's relationship with her family; Lydia's memory raises concerns with the Graysons.

9

Suspicion

Season 1 : Episode 9

43 minutes

Suspicion

Realizing she has lost a valuable ally, Emily reaches out to her mentor; Victoria finds herself all alone; Tyler's influence continues to be a threat.

10

Loyalty

Season 1 : Episode 10

43 minutes

Loyalty

After discovering a secret, Emily questions Nolan's loyalty; Victoria regains some power and things between her and Conrad take a turn for the worse.

11

Duress

Season 1 : Episode 11

43 minutes

Duress

An unstable visitor crashes Daniel's intimate birthday celebration; Conrad and Victoria use Charlotte as a pawn in their bitter divorce battle.

12

Infamy

Season 1 : Episode 12

43 minutes

Infamy

Emily targets an author with ties to the Graysons and the Clarkes; Conrad shows how dirty he is willing to get in the divorce.

13

Commitment

Season 1 : Episode 13

43 minutes

Commitment

Daniel's romantic proposal comes with dire ramifications; Charlotte moves back in with her mother; Jack's life is in jeopardy when he's betrayed.

14

Perception

Season 1 : Episode 14

43 minutes

Perception

In the excitement over Emily and Daniel's engagement party, things start to unravel for everyone; Victoria uses Conrad's father against him.

15

Chaos

Season 1 : Episode 15

43 minutes

Chaos

Emily's vendetta takes a dark turn at her and Daniel's engagement party, putting everyone in mortal danger; Jack decides to track down Amanda.

16

Scandal

Season 1 : Episode 16

42 minutes

Scandal

The Graysons unite in the face of recent scandal; Emily becomes increasingly anxious; Amanda's location is questioned.

17

Doubt

Season 1 : Episode 17

43 minutes

Doubt

Daniel's imprisonment has an unexpected impact on Victoria; Jack's search for Amanda becomes more desperate.

18

Justice

Season 1 : Episode 18

42 minutes

Justice

When Emily finds out who was responsible for her father's murder, Victoria's pawns become entangled in an insidious cover-up.

19

Absolution

Season 1 : Episode 19

43 minutes

Absolution

The press becomes increasingly hostile as Daniel's release nears; Emily discovers a photograph that leads to more clues about her father's death.

20

Legacy

Season 1 : Episode 20

42 minutes

Legacy

Amanda Clarke reads her father's journals and begins staking out the Graysons' home; as her anger and determination grow, she plans to seek justice.

21

Grief

Season 1 : Episode 21

43 minutes

Grief

A devastating loss brings Jack and Emily closer together; Victoria's new alliance could seal Conrad's fate; Charlotte goes after Declan.

22

Reckoning

Season 1 : Episode 22

43 minutes

Reckoning

Emily intends to finally follow through with her plan for revenge; the Graysons continue down a path of self-destruction.
---
Show Details
Creator

Mike Kelley
Cast

Madeleine Stowe

Emily VanCamp

Gabriel Mann

Henry Czerny

Nick Wechsler

Joshua Bowman

...see more

Christa B. Allen

Ashley Madekwe

Connor Paolo

Barry Sloane

Margarita Levieva

James Tupper

Dilshad Vadsaria

Amber Valletta

Emily Alyn Lind
Genres

TV Shows

TV Dramas

TV Mysteries
This show is
---