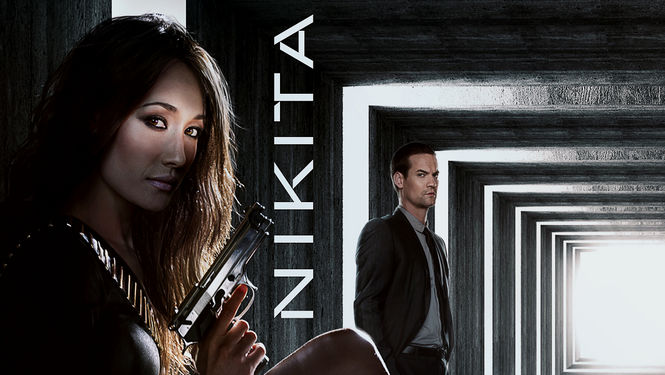 Nikita
2010-2012
TV-14
3 Seasons
Nikita, one of the most highly skilled assassins on earth, targets the mysterious corporation that turned her and other at-risk teens into killers.
Summary (
2010

)

Hired assassin Nikita maintains absolute loyalty to a secret U.S. intelligence agency until she discovers that her superiors have betrayed her.
1

Pilot

Season 1 : Episode 1

42 minutes

Pilot

Maggie Q stars as the rogue Nikita, who is determined to bring down the very agency that trained her to be an assassin.

2

2.0

Season 1 : Episode 2

42 minutes

2.0

Percy and Michael take their latest assignment into protective custody, but Nikita learns of their hideout and attempts to thwart their plan.

3

Kill Jill

Season 1 : Episode 3

41 minutes

Kill Jill

Nikita rescues Jill, a journalist trying to expose a conspiracy involving Division and a major plane crash. Amanda interrogates Birkhoff.

4

Rough Trade

Season 1 : Episode 4

42 minutes

Rough Trade

Nikita revisits her past when she posed as a nanny for an influential government official and decides to right the wrong of his death.

5

The Guardian

Season 1 : Episode 5

42 minutes

The Guardian

Division operative Owen escapes from a bank robbery and becomes a fugitive. Alex attempts to warn Nikita, but she is busted by Thom.

6

Resistance

Season 1 : Episode 6

42 minutes

Resistance

A bus of Division recruits is attacked by terrorists who kidnap Alex and Thom, both of whom are unaware that this is a test by Division.

7

The Recruit

Season 1 : Episode 7

42 minutes

The Recruit

Alex informs Nikita that one of the recruits has been activated to carry out a suicide mission. Nikita intercepts the recruit just as Michael arrives.

8

Phoenix

Season 1 : Episode 8

42 minutes

Phoenix

If a U.S. senator agrees to help pass a bill that will continue to fund Division, the agency will cover up the senator's secret affair.

9

One Way

Season 1 : Episode 9

42 minutes

One Way

Nikita and Michael temporarily team up to kill a terrorist. Alex is caught going through medical files inside Division and creates a lie about Jaden.

10

Dark Matter

Season 1 : Episode 10

42 minutes

Dark Matter

Nikita and Owen go to Chile in an effort to rescue Ryan from mercenaries, but they end up getting captured.

11

All the Way

Season 1 : Episode 11

42 minutes

All the Way

Alex is sent on her first kill mission. Birkhoff discovers the shell program that has been used to connect to Nikita in the outside world.

12

Free

Season 1 : Episode 12

42 minutes

Free

Nikita realizes Division has implanted a kill chip in Alex's head, who is now an agent.

13

Coup de Grace

Season 1 : Episode 13

41 minutes

Coup de Grace

A plan to foil Alex's first assassination assignment goes awry when Nikita trusts the wrong person.

14

The Next Seduction

Season 1 : Episode 14

42 minutes

The Next Seduction

To help Ryan with a mission, Nikita must reassume an old identity she had while undercover at Division.

15

Alexandra

Season 1 : Episode 15

42 minutes

Alexandra

While out on a mission, Alex runs into Irina, a woman from her past, and tries to help her.

16

Echoes

Season 1 : Episode 16

42 minutes

Echoes

Alex is sedated to help her heal after her last mission, but Amanda takes advantage of Alex's drugged condition to question her.

17

Covenants

Season 1 : Episode 17

41 minutes

Covenants

Michael confronts Nikita and reveals that he knows Alex is the mole.

18

Into The Dark

Season 1 : Episode 18

42 minutes

Into The Dark

Nikita goes to London with Owen to retrieve one of Percy's black boxes; there, the two disagree about what to do with it.

19

Girl's Best Friend

Season 1 : Episode 19

41 minutes

Girl's Best Friend

Alex and Jaden are assigned an overseas mission, but when things go awry, Alex must decide whether to try to save the mission ... or herself.

20

Glass Houses

Season 1 : Episode 20

41 minutes

Glass Houses

When Nikita goes to a small town after one of Percy's black boxes, she is shocked to find the guardian of the box has abandoned her post.

21

Betrayals

Season 1 : Episode 21

41 minutes

Betrayals

Michael sends Nikita in to save the last person on the list of black box protectors, a CIA cryptographer named Malcolm.

22

Pandora

Season 1 : Episode 22

42 minutes

Pandora

Percy makes a move to take over the CIA, Alex goes rogue, and Michael is trapped inside Division, unable to help Nikita when her life is in peril.
---
Show Details
Creator

Craig Silverstein
Cast

Maggie Q

Shane West

Lyndsy Fonseca

Aaron Stanford

Melinda Clarke

Xander Berkeley
Genres

TV Shows

Crime TV Shows

TV Action & Adventure

TV Dramas

Crime TV Dramas
---