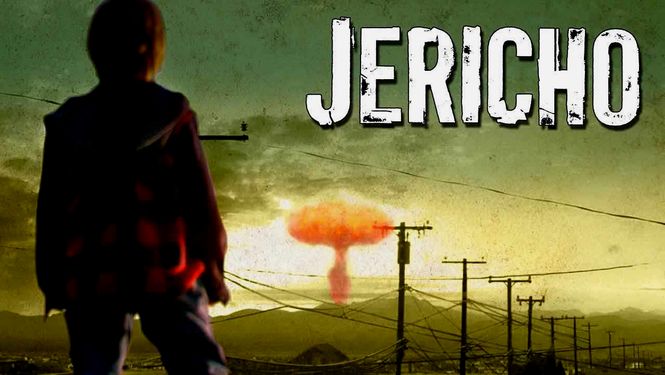 Jericho
2006-2008
TV-PG
2 Seasons
Jake returns to his Kansas town to collect an inheritance, but a nuclear blast cuts off the outside world and makes him a reluctant leader amid chaos.
Summary (
2006

)

A small Kansas town finds itself cut off from the rest of the world after a mushroom cloud appears on the horizon, and a TV and radio blackout ensues.
1

Pilot

Season 1 : Episode 1

40 minutes

Pilot

In the wake of a nuclear attack, Jake Green returns to his hometown of Jericho, Kan., after a mysterious five-year absence.

2

Fallout

Season 1 : Episode 2

42 minutes

Fallout

Jake rallies Jericho residents to take shelter from fallout from the nuclear bomb that destroyed Denver. However, the shelter is uninhabitable.

3

Four Horsemen

Season 1 : Episode 3

44 minutes

Four Horsemen

Satellite news reports the extent of the nuclear catastrophe to the shell-shocked townspeople, and Stanley claims he saw tanks rolling into Denver.

4

Walls of Jericho

Season 1 : Episode 4

40 minutes

Walls of Jericho

Despite the risk of contamination, Jake and Heather rescue a man disfigured by extensive radiation poisoning and bring him to the hospital.

5

Federal Response

Season 1 : Episode 5

42 minutes

Federal Response

Homeland Security phones Jericho with a recorded message promising help will arrive soon. Hopes rise when communication is restored and power returns.

6

9:02

Season 1 : Episode 6

42 minutes

9:02

At precisely 9:02, an electromagnetic pulse shuts down power in Jericho, leaving the town in the dark. Farmers desperately try to save their crops.

7

Long Live the Mayor

Season 1 : Episode 7

44 minutes

Long Live the Mayor

Gray Anderson, shocked by the horrors he witnessed when traveling outside of Jericho, returns with information about which other cities were targeted.

8

Rogue River

Season 1 : Episode 8

43 minutes

Rogue River

Mayor Green faces certain death if Jake and Eric fail to bring back medication in time. Meanwhile, Gray Anderson interrogates Rob Hawkins.

9

Crossroads

Season 1 : Episode 9

43 minutes

Crossroads

The Ravenwood gang Jake and Eric encountered at Rogue River shows up in Jericho and takes resources by force.

10

Red Flag

Season 1 : Episode 10

42 minutes

Red Flag

During Thanksgiving, the exhausted townspeople are simultaneously elated and wary when bombers fly overhead and drop parachutes holding supplies.

11

Vox Populi

Season 1 : Episode 11

44 minutes

Vox Populi

Gray Anderson uses a murder investigation to boost his reputation among the townspeople, hoping it will help him win the mayoral election.

12

The Day Before

Season 1 : Episode 12

42 minutes

The Day Before

Flashbacks reveal that before the bombs struck, Jake failed to secure a job as a charter pilot because his file was flagged as suspicious.

13

Black Jack

Season 1 : Episode 13

43 minutes

Black Jack

Jake and Johnston take a trip to the Black Jack trading post, looking for parts to repair Jericho's windmill.

14

Heart of Winter

Season 1 : Episode 14

44 minutes

Heart of Winter

Strangers run Jake, Stanley and Mimi off the road while they are hunting, pinning Jake under the vehicle and knocking Stanley unconscious.

15

Semper Fidelis

Season 1 : Episode 15

42 minutes

Semper Fidelis

Marines roll into Jericho in a tank and tell the townspeople that the war has ended, with the United States bombing Iran and North Korea.

16

Winter's End

Season 1 : Episode 16

44 minutes

Winter's End

Jake forces Kenchy to perform a risky operation on April as complications arise with her pregnancy. Meanwhile, Johnston searches frantically for Eric.

17

One Man's Terrorist

Season 1 : Episode 17

41 minutes

One Man's Terrorist

With supplies dwindling, Mayor Gray Anderson decides to evict the refugees. Meanwhile, terrorists in New York are revealed to have used false FBI IDs.

18

A.K.A

Season 1 : Episode 18

43 minutes

A.K.A

Horrified by the mounting evidence that Hawkins is a terrorist, Jake holds him at gunpoint and demands answers.

19

Casus Belli

Season 1 : Episode 19

44 minutes

Casus Belli

Eric goes missing after assisting with the construction of wind turbines in the neighboring town of New Bern.

20

One if by Land

Season 1 : Episode 20

42 minutes

One if by Land

When townspeople from New Bern raid Jericho's salt mine, a gun battle results in several New Bern citizens being injured.

21

Coalition of the Willing

Season 1 : Episode 21

44 minutes

Coalition of the Willing

New Bern threatens to take aggressive action against Jericho unless they hand over seven farms and half their salt mine.

22

Why We Fight

Season 1 : Episode 22

43 minutes

Why We Fight

A border war explodes between Jericho and New Bern. Although New Bern outstrips Jericho in both men and resources, Jericho still has the tank.
---
Show Details
Creator

Stephen Chbosky

Josh Schaer

Jonathan E. Steinberg
Cast

Skeet Ulrich

Lennie James

Ashley Scott

Kenneth Mitchell

Brad Beyer

April Parker-Jones

...see more

Alicia Coppola

Pamela Reed

Bob Stephenson

Gerald McRaney

Clare Carey

Richard Speight Jr.

Michael Gaston

Erik Knudsen

Shoshannah Stern

Sprague Grayden
Genres

TV Shows

Cult TV Shows

TV Action & Adventure

TV Dramas

TV Mysteries

TV Sci-Fi & Fantasy
This show is
---